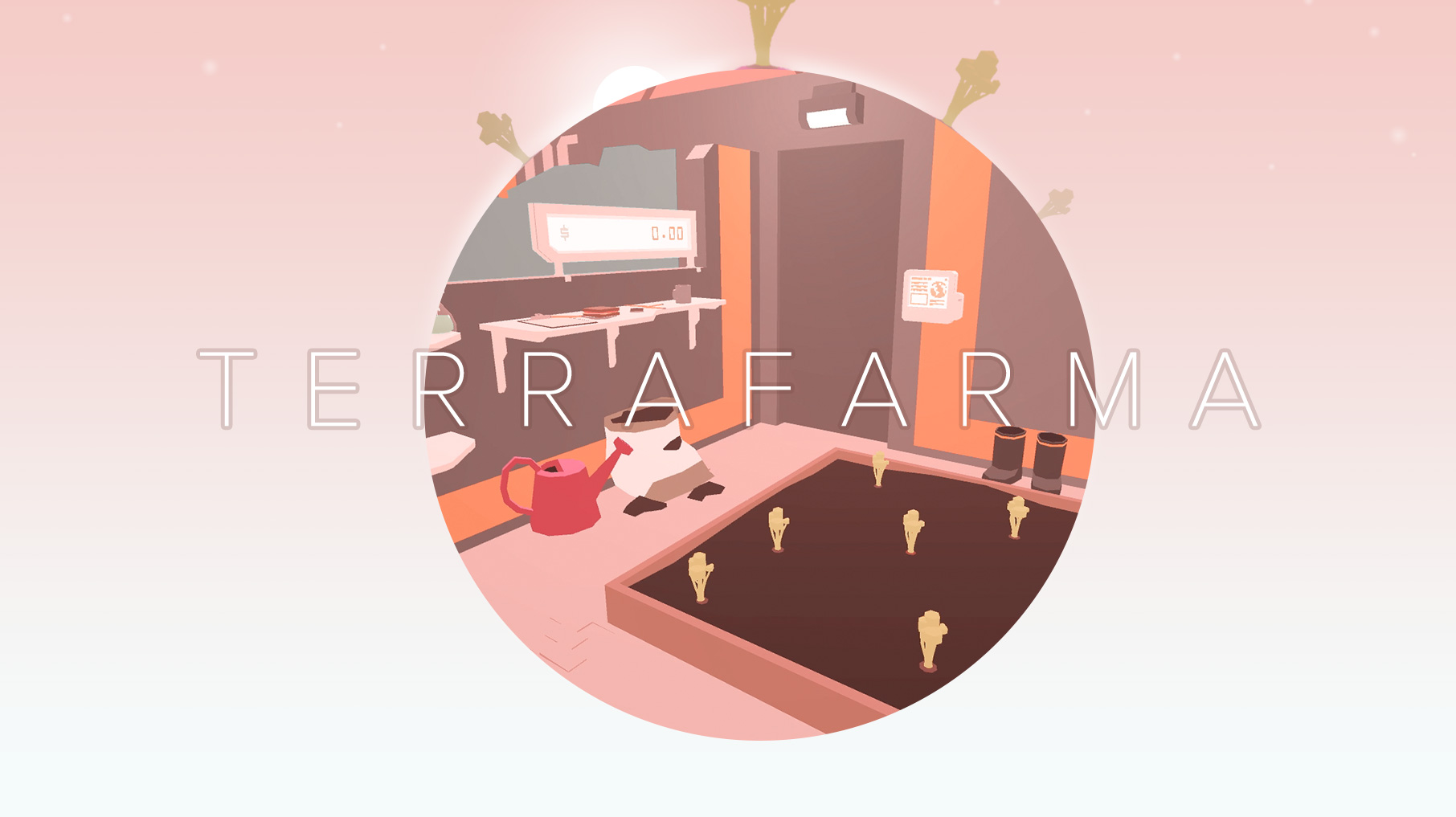 Terra Farma
A downloadable game for Windows
This game is the product of a 6-week game jam we did in 2016.
Description & Premise
Terra Farma is a four-player, multi-modal party game that brings an HTC Vive, an analog player, and two Xbox 360 Controllers together into a single, connected experience. The game takes place in an extra-planetary farming facility where vegetables are grown, picked, and sorted based on the ever-shifting market demands of a dying planet Earth.

Roles
Vive Player. You are the Gardener—a day laborer who picks vegetables in order to make a living. Using your gravity-powered slingshot, you can toss or shoot vegetables into the proper containers. The only problem is, you're not sure where the different types of the vegetables should go.
Analog Player. You are the Micromanager. Using the read-out from the 2D interface, it's your job to tell the Gardener what the current demands are so the vegetables can be sorted properly.
Xbox Controller Players. You are space Moles, and you just want to eat. But the vegetables in the ground just keep getting pulled up!
Starting a Game
Terra Farma starts out in Lobby Mode so that players can get used to the controls. When you're ready to start an official game, the Vive player must reach for the backlit LED terminal near the door. Your controller will become a punchcard—touch this against the terminal. The music will change to Game Mode music and a rocket may blast off—don't be alarmed! You'll have two minutes to make as much money as you can.
HoloLens Add-on

This was originally built with both a Vive and a HoloLens, as a technology experiment. Since most people don't own both of these, this version replaces the HoloLens player with an analog player, moving the game data to a secondary display. But, if you do have both devices and would like to try the build, reach out on Twitter—we're @thomasstweet.
About Us
Thomas Street is a pocket-sized technology studio. When we're not busy sailing, watching films, or deciding where to have lunch, we're untangling hard problems in order to create inspired product experiences.
You'll find us in Seattle and San Francisco.
Comments
Log in with itch.io to leave a comment.
Trouble you share the HoloLens project source code, thank you, email 1051775224@qq.com
s-sorry but i c-can play this game it is not like the ads all it does is make me play a vegge game
This seemed like a great idea. Sad that it isn't going to be developed further and is limited to technology most people don't have, but I really do appreciate the effort. Keep doing what you're doing!
Would you be able to make this game all controllable from 1 keyboard? I don't own an HTC Vive, I can't afford one right now, and I don't have any controllers that will connect to my laptop.
Sadly since it was just for a game jam, we won't be developing it further and won't be able to make it compatible without a Vive. Thanks for your interest though!
what are the requirements for this game
Great question. You'll need a Vive. Otherwise if your machine can run a Vive, you should be able to run this just fine.
how! this very awsome!!! thomasstreet your the cool creator of gameplay cool dude i love it. no boring no mad and no sad too love this 100% love the game!!